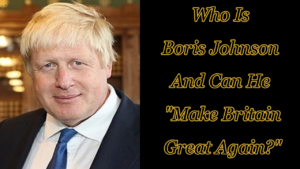 Just 2 days ago Alexander Boris de Pfeffel Johnson aka Boris Johnson became the UK's 77th Prime Minister and according to the President of the United states is seen as "Britains Trump"
But many ask who he is and can he truly deliver for Britain and similar to the US President's Slogan – Make Britain Great Again.
Boris was the MP for Henley from 2001 to 2008, then became Mayor of London from 2008 to 2016, elected as the Member of Parliament (MP) for Uxbridge and South Ruislip since 2015 and from 2016 to 2018 he served as Foreign Secretary. Resigning that post in a dispute with the then PM over Brexit negotiations and awaiting his moment, has succeeded in staving off a number of potential candidates becoming Leader of the Conservative party on Tuesday and prime minister on Wednesday.
Johnson identifies himself as a one-nation conservative and has been associated with both economically and socially liberal policies.
What many are unaware of is that he was Born in New York City to wealthy upper-middle class British parents. They had the foresight however to register his birth with both the U.S authorities and the city's British Consulate, thereby granting him both American and British citizenship.
Due to his family's wealth, Johnson was educated at a host of privileged schools and colleges including the European School, Brussels I, Ashdown House, and was awarded a King's Scholarship to study at Eton College. He read Classics at Balliol College, Oxford, where he was elected President of the Oxford Union in 1986.
He began his career in journalism at The Times but was sacked for falsifying a quotation.
He later became The Daily Telegraph's Brussels correspondent, with his articles exerting a strong influence on the growing Eurosceptic sentiment among the British right-wing.
In 2016, Johnson was a prominent figure in the referendum on Britain's membership of the European Union, becoming a leading figure in the successful 'Vote Leave' campaign, though critics stated behind the scenes, that if it had been politically expedient for him, he could have easily led the 'Remain' campaign instead.
He has also been criticised by figures on both the left and the right, who have accused him of elitism, cronyism, dishonesty, laziness, and using racist and homophobic language – some of the accusations similarly levelled against President Trump.
That said he has also been regarded by some as "the most unconventional, yet compelling politician of the post-Blair era in British politics."
Johnson took no time in appointing his Cabinet on 24 July 2019, describing it as a "Cabinet for modern Britain" with the media branding it "an ethnically diverse but ideologically homogeneous statement of intent".
Among other appointments, Johnson made Dominic Raab the First Secretary of State and Secretary of State for Foreign and Commonwealth Affairs (in other words Deputy Prime Minister and Foreign Secretary), and appointed Sajid Javid as Chancellor of the Exchequer and Priti Patel as Home Secretary.
Johnson increased the number of ministers attending the Cabinet to 33, four more than had attended the May Cabinet. One quarter of those appointed were women, and the Cabinet set a new record for ethnic minority representation, with four secretaries of state and two additional ministers coming from minority backgrounds. Nearly two-thirds of those appointed went to fee-paying schools, and almost half had attended Oxford or Cambridge universities.
Johnson is an important figure – certainly for this moment in time. He has advocated that whether it be a hard Brexit or not, Britain will be departing the EU on 31st October 2019 'come what may'. This means that his relationship with President Trump will be of paramount importance, as a new trade deal with the US will be essential for the UK, so as not to suffer too adversely when it withdraws from the EU.
He re-iterated his determination of ensuring the UK will leave the EU on 31st October in his maiden Prime Ministerial speech yesterday in the House of Commons and to be fair it was a most positive, upbeat and often humorous speech – a marked contrast to his more sombre predecessors.
He has already made promises of increasing the police force by some 20,000 officers over the next few years and it has been announced earlier today that an Autumn budget will be forthcoming aimed at propelling the economy forward – suggesting either tax cuts or greater government spending or possibly even both.
Johnson has his critics however, including one of our most learned Inner sanctum Contributors Dr Richard North who regards Johnson as a "Buffoon" and an "Oaf" and quite possibly a disaster for this country. We fully understand why he believes this, but part of us cannot help but think, that perhaps someone who is unconventional (but not stupid) and who will push the boundaries, may indeed have greater success than those who governed before him.
Indeed, this is a leap of faith – but he did do a good job as Mayor of London and one thing is certain, if he fails, he will be dumped very quickly by his own party, for that one can be certain.
There are 2 major issues facing the new British prime Minister – to either renegotiate a much better Exit deal with the EU (which  to succeed by31st October is extremely unlikely and to get Parliament to vote on it with support) or to simply allow a hard Brexit just to happen.
There is some talk that he may call a general election to get such a deal through, however, we aren't convinced that he can trust Nigel Farage sufficiently enough to enter into a pact – as Nigel has proven less than reliable on a number of occasions in political affairs.
Also, one should ask will he need him. If he allows a hard Brexit to occur naturally (in our view he could sit on his hands, do nothing and Brexit happens by default – though this is untested legally)  he can call a general election in 12 to 18 months' time being out of the EU and argue there is now no need for a Brexit Party.
However, this plays out, what will be crucial is that Boris gets on with President Trump. A favourable trade deal with the United states will be seen as crucial and frankly there is no reason why this cannot happen. Whilst both leaders are somewhat vain, charismatic, maverick in nature, and crave the limelight, they are also both transactional and can potentially see some political and economic merit in working closely together. This we believe will happen.
There are many announcements to come out of 10 Downing street over the next few days and looking at markets generally, their response to our new Prime Minister so far has not been as devastating as some feared.
The FTSE 100 index is up some 35 points at 7,524 as we produce this video and sterling vs the dollar stands at $1.24 only 1 cent weaker than just before his election and appointment and unchanged against the Euro.
So far, we just have rhetoric, but in politics rhetoric can shape the mood. Providing it is then followed up with action, we may indeed see results.
We cannot in all honestly accurately predict how far this Johnson train will go, as there are so many variables which could move in either direction. That said, the one thing we can be sure of under a Johnson Prime Ministerial ship – and that is – it will certainly be 'one hell of a ride'.