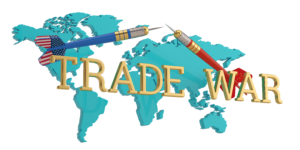 The Wall street journal reported earlier today that US Trade Representative Robert Lighthizer and Treasury Secretary Steven Mnuchin plan to fly to Beijing next week to meet with Chinese Vice President Liu He to continue with trade talks. It also stated that Mr Liu will be heading a Chinese delegation to continue talks in Washington the following week, with the aim of closing a deal by late April.
The previous talks between these two countries broke up without a deal on 15th February but President Trump did in fact delay a 1st March deadline for raising tariffs citing the progress being made.
The issue between the two countries can be summarised as the US wants China to 'open its markets to foreign imports and removing the large state subsidies and support to indigenous business thereby giving them a competitive price advantage, and China wants the US to remove its tariffs and not impose more.
We are aware that should such a deal not be achieved; the US has promised to more than double the 10% tariffs on $250bn of Chinese goods and impose new tariffs on an additional $267 billion worth of Chinese products and China has threatened to retaliate with additional tariffs of its own.
There is little doubt in international markets that this 'trade war' is contributing to what is already a slowdown in world economic growth and it is in the interests of all parties involved to see, and ultimately agree, a resolution to this problem.
Our view is that such an agreement will eventually be reached, and there is a lot of pressure on President Trump to maintain and not jeopardise what appears, at least for the moment, to be a relatively buoyant economy.
With China, and the US forecasting lower GDP growth for 2019 and 2020 it is imperative that even their downgraded forecasts are not further adversely affected.
Whilst most business leaders agree that his tactic of tariffs is harmful short term and should not be continued indefinitely, many also admit that they do put Trump and the US in a good negotiating position and we shall witness in the coming weeks whether such advantages result in a positive outcome both for the US and for world trade as a whole.