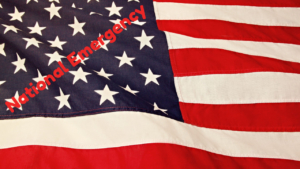 U.S. stocks rebounded yesterday for the second day on signs the Trump administration is working toward easing tensions with trade partners.
The Dow Jones closed up 115 points at 25,648 and the S&P was up 16 points at 2,850 – a two-day gain and the largest in more than a month –  responding to the announcement that the US would postpone by up to six months a decision on car tariffs that was due by Saturday.
In addition, Treasury Secretary Steven Mnuchin also said negotiators were close to a deal with Mexico and Canada on removing metals tariffs, helping to boost indexes.
Bloomberg reported:
"The possibility that the president will delay penalties on cars and end steel and aluminum tariffs helped calm investors' concerns about Trump's protectionist turn against major trade partners, outside of China. However, anxiety still hovered over markets after unexpectedly weak U.S. and Chinese economic numbers Wednesday heightened worries the trade war could weigh on a global economy that's already staggering."
Also, it is important to take note of the "National Emergency" that President Trump has just declared by signing an executive order which effectively bars US companies from using foreign telecoms believed to pose national security risks.
According to the Whitehouse:
This is deemed to "protect threats against American technology"
It does not take a great deal of imagination to appreciate that this is aimed at Huawei, the Chinese Tech giant – thereby potentially escalating the trade war between the US and China.
This move authorises the Commerce Secretary Wilbur Ross, in consultation with other top officials, to block transactions that involve information or communications technology that "poses an unacceptable risk to the national security of the United States."
Following the order, the U.S. Department of Commerce announced the addition of Huawei Technologies and its affiliates to the Bureau of Industry and Security (BIS) Entity List, making it more difficult for Huawei to conduct business with U.S. companies.
The addition means that U.S. companies cannot sell or transfer technology to Huawei without a license issued by the BIS. That could make it harder for Huawei to do business, as it depends on some U.S. suppliers for parts.
Let's see how this plays out over the coming weeks and whether its tradeable with China during the trade tariff dispute.
The two-year Treasury yield touched the lowest level since February 2018 early yesterday before paring losses, while the 10-year rate fell to 2.37%. The dollar index was little changed, and oil rose above $62 a barrel. Most European and Asian markets also rose yesterday.
It was reported by the Commerce department that US retail sales declined 0.2% in April, following a surge of 1.7% in March which itself was revised lower. We are often asked; why do retail sales figures matter? – well to put it in perspective; retail sales are an important component of consumer spending which accounts for approximately 66% of US GDP – so noting these figures are important for when GDP growth is announced.
If this wasn't enough, The Federal Reserve reported that US industrial production fell by 0.5% in April compared with a 0.2% gain in March and manufacturing output also fell by 0.5%.
So, the economic outlook based on April's figures is not too promising which at least suggests the further dampening down on any prospect of future interest rate rises and the increasing outlook for interest rate cuts – though as we stated in our podcast yesterday, we do not foresee an interest rate reduction for some time yet.
Gold currently stands at $1295 some $9 above its Friday close and silver stands at $14.77 down 1 cent since its Friday close. However in sterling terms gold is up £20 and silver up 14 pence since Friday just showing the current weakness in sterling against the Us dollar at present – hardly surprising when considering the Brexit turmoil and the fact that Nigel Farage's Brexit Party is set to dominate the forthcoming European elections and Conservative support throughout the country is collapsing.