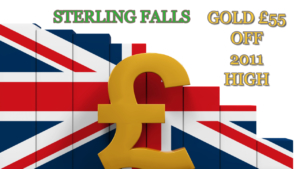 For some considerable time, effectively since the referendum on leaving the Eu on 23rd June 2016 we have been negative the value of sterling.
Whilst most of us who are associated with Illuminati Silver believe that long term EU withdrawal is good for the United Kingdom, we are not blind to the fact that there will be some considerable pain.
The UK will have to negotiate new trading terms with most countries, and even under WTO rules, it's not a utopian prospect. What makes it more difficult is the calibre of politicians negotiating these deals and the secret agenda of others to undermine them.
We were going to publish this YouTube video on Wednesday when it was reported that the pound slumped to a two-year low, as signs of an economic downturn mounted in a market increasingly betting that policy makers will have to cut borrowing costs.
The currency reached its weakest level since April 2017 as disappointing retail sales and suggestions that the U.K. economy could be set for its worst quarter since 2012 sapped sentiment. The bleak economic outlook is adding to risk factors for sterling, with money markets pricing in a rate cut by the Bank of England next year.
However, we decided to wait as we suspected things were likely to get worse and more clarity would be received after we heard Jerome Powell's testimony to Congress, as what happens across the Pond has a profound effect on what happens in the UK in most financial and trading matters.
The pound has been adversely affected in recent weeks by concern about the U.K.'s political risk as the contest to elect the next prime minister approaches its endpoint, with front-runner Boris Johnson keeping a no-deal Brexit on the table. Sterling has fallen about 2% since Prime Minister Theresa May indicated that she would be stepping down.
Earlier in the week, Sterling tumbled 0.6% to $1.2443, its lowest since April 2017. The currency also slipped 0.4% to 89.98 pence per euro. The yield on U.K. 10-year government bonds was little changed at 0.72%, after touching the lowest since September 2016 last week.
At the time of writing the sterling dollar rate is $1.25709 and against the Euro its 90 pence. What is worth noting however is that Bank of England Monetary Policy Committee Member, Gertjan Vlieghe, speaking during a Reuters Newsmaker event in London today, declared that The Bank of England might need to cut interest rates almost to zero after a no-deal Brexit, while repeated Brexit delays could also make a rate cut necessary – even this year.
Now he is just one member, but we know, from our own contacts, that he is not alone in this thinking. We fully acknowledge that the Bank of England would prefer an agreed deal, and will, to some extent, paint a most negative picture if one is not achieved. However, privately, they are more concerned about actually not knowing the extent markets will be affected if a no deal Brexit occurs, and this is now almost certain, with both Party leadership contenders stating that they will consider a No-Deal Brexit situation.
We have only to witness the price of gold, and to a lesser extent silver, to appreciate how far sterling has fallen, and we are of the opinion it has further to go, and especially if Boris Johnson wins the leadership, and we are confident that he will.
Gold is standing at £1127 an ounce, just £55 off its 2011 high, and silver faring much worse, but still up recently at £12.13 (some £13 plus pounds of its 2011 high).
Whilst we are not necessarily buyers of gold in sterling at this level, we still do not think it is hugely expensive, and is likely to rise further over the coming months, almost regardless of what it does in dollar terms, mainly the consequence of sterling devaluation.
At some stage, sterling will eventually recover, but if the Bank of England is forced to reduce rates because of a Hard Brexit, then sterling is moving only in one direction – short term. Of course, if a new accommodative BREXIT deal can be negotiated, then the tables will turn, but frankly, we aren't confident that Johnson and any team that he may surround himself with, will fair any better than Theresa May – so a Hard Brexit here we come.