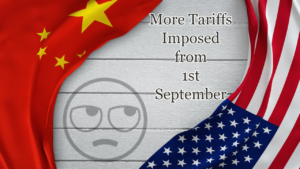 Yesterday we published a video highlighting the reasons gold and silver prices fell, quite surprisingly to many, even though the FED cut rates – entitled:
"Why Gold & Silver prices fell following Fed Rate Cut"
Well within about 2 hours of releasing that video President Trump announced that he will impose a fresh 10% tariff on another $300bn (£247bn) of Chinese goods, in a sharp escalation of a trade war between the two countries.
Before we go into more depth concerning these tariffs, we would like to point out, that during Jerome Powell's statement and question and answer session on Wednesday, one of the reasons he stated that the FED decided to cut interest rates, was to mitigate the ramifications of, and to use his words, to "take some account of trade policy uncertainty". In other words, and to quote ourselves:
"To Provide an insurance policy against Global recession and trade policies which cause destabilisation and uncertainty"
Again, we produced a YouTube video on this matter on Wednesday entitled:
'FED Cuts Rates – First Time Since 2008 – Assessment'
To support this, Eric Winograd, Senior U.S. Economist at Alliance Bernstein told Reuters this week;
"The trade war has been disruptive to the global economy and it's created a feedback loop….. Fed policymakers are responding primarily to risks, and most of the risks to which they are responding are coming out of the administration."
Now whether one fully agrees with this statement or not, the point is, the Trump Administration decisions impact other organisations decision making, including businesses, and of course, that of the FED
A more worrying aspect, if true is a statement made by Nick Maroutsos, Co-Head of Global Bonds at Janus Henderson Investors who stated:
"Trump has obviously attempted to influence the Federal Reserve to further his agenda….. Trump wants lower rates, to keep down the dollar – a lower dollar – and all of that will help his campaign."
Now this is one of the reasons being muted, why the President has imposed the latest increase in tariffs, in other words to put more pressure on the FED to reduce rates in the future; which we shall now look at in more depth.
We have reported extensively that the Trump administration had just over a week ago resumed bilateral talks with China – however, despite some positive noises from the White House at the time, they have, in reality, showed little signs of a breakthrough.
With the President angry about: the FED not being more dovish with its forward guidance; his irritation that a deal on trade appears not to be advancing; and his criticisms of China not honouring promises to buy more US agricultural products at this week's negotiations in Shanghai; yesterday, he announced a proposed fresh tariff of 10% on another $300bn worth of Chinese goods to take effect from 1st September 2019. This in effect will cover all Chinese imports into the United States.
He further added, when speaking to reporters later, that the 10% tariff was a short-term measure and that tariffs could be lifted further in stages to more than 25% and he ended those discussions with the comment:
"Somebody should have done this with China a long time ago,"
Now clearly the FED will have received a 'heads up' about this proposal, which is in our opinion, one of the main reasons they lowered rates, because as far as the US economy is concerned, a 0.25% cut would make very little difference up to that point. Now we know why therefore, Jerome Powell kept adding 'the propping up of business and consumer confidence' as one of the repeated reasons for the decision.
Trump's announcement/tweet brought swift comments from both China and the US:
China's Foreign Minister Wang Yi said on the side-lines of a meeting of South East Asian ministers in Bangkok
"Adding tariffs is definitely not a constructive way to resolve economic and trade frictions, it's not the correct way."
The US Chamber of Commerce said the latest tariffs on China:
"will only inflict greater pain on American businesses, farmers, workers and consumers, and undermine an otherwise strong US economy".
And yesterday, Trump's former chief economic adviser, Gary Cohn, said in a BBC interview that the tariff battle was having a "dramatic impact" on US manufacturing and capital investment.
Now we all know that these tariffs are being used by the President essentially to provoke China into action or a hopefully, a mutually beneficial decision. However there are some who argue, that China can, and possibly will, deliberately not deal with President Trump and wait his time out; in the hope that the US economy fails, President Trump is replaced with a new Democrat President who might be more favourable to China.
We cannot of course attest to this as a certainty, but one does have to ask, which economy is more likely to buckle – a Democracy with a small GDP growth of just over 2% with a President who is lagging somewhat in the opinion polls, or a Totalitarian State – where the President is in position for life, and where the people of that country are used to suffering for the so called 'benefit of the State?'
What we can attest to though, is that prior to Trump's tweet yesterday, the Dow Jones was up over 200 points, but as a result of it, it closed down 280 points. This morning all European, Middle Eastern, African and Asian markets are down. The dollar index which was above 98.5 is currently 98.2 and gold is standing at $1435 and silver at $16.12.
We also have the 'jobs report' coming out later today which could have an additional impact on these prices.
Let's hope President Trump's strategy works, for if it does not, then there will be many US businesses going to the wall, the US economy will falter badly and there may be a new President in the White House in 2021.
Of course, it would be worth it if it brings China 'to heel'- as they have been bad actors as far as world trade is concerned – but there is also the possibility that they will remain equally as belligerent and try and wait out the clock.
What do you think?
"Why Gold & Silver prices fell following Fed Rate Cut"
https://www.youtube.com/watch?v=G1hlj9yM-vE
'FED Cuts Rates – First Time Since 2008 – Assessment'