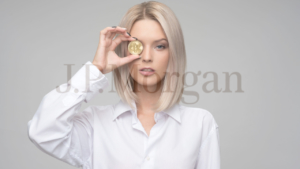 US Investment bank JP Morgan has created a crypto-currency called JPM Coin, and it is the first digital currency to be backed by a major US bank. As with other cryptos it runs on blockchain technology.
Now before anyone becomes too excited and imagine that they will rush out and buy a JPM Coin, they have to be advised that it is not for retail customers, but instead will be used internally by JP Morgan, to enable the instantaneous transfer of payments between institutional accounts.
When a JP Morgan client deposits money into an account, the money is converted into an equivalent number of JPM Coins. The coins are then able to be used to perform transactions over the bank's blockchain network called 'Quorum' with other clients, for example such as the movement of monies or payments in securities transactions. Once the transactions have been performed, holders of JPM Coins can redeem them for US dollars from the bank.
This has attracted some criticism in that the whole purpose of blockchain technology is that no-one controls it. In this case JPMorgan will control it, which is why some have stated that all JPMorgan needed was a website and database not a new crypto based on blockchain technology.
JP Morgan says that it is trialling crypto-currency and blockchain in order to speed up payment transfers, as well as reducing clients' counterparty and settlement risk, and decreasing capital requirements.
Of course, suspicions will now run wild, as JP Morgan's chief executive, Jamie Dimon, is renowned for publicly criticising Bitcoin – the first crypto-currency in existence – but JP Morgan's Head of Digital Treasury Services and Blockchain, – Umar Farooq – wrote in an online Q&A page:
"We are supportive of crypto-currencies as long as they are properly controlled and regulated."
This will now raise some eyebrows and lead one to wonder, that with the demise of crypto currency prices in recent months, why is a major bank embarking on this project?
Is this just a testbed for what is about to become mainstream? We shall have to wait and see.
For those of you who have followed our videos on cryptocurrencies and especially our recent ones, will observe that we have laid out in plain sight that blockchain technology is the future but independent cryptos are not.
There are further steps being taken down this road and it shall be an intriguing journey for bankers and non-bankers alike.