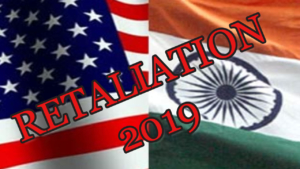 2 weeks ago, today, we produced a YouTube video entitled:
 "India's Growth is Falling – What about Gold & Silver Demand?" (Link provided in the description below)
where we highlighted that:
'In the past financial year – April 2018 to March 2019 – the [Indian] economy grew by 6.8%. And in the quarter between January and March, it expanded by just 5.8% – falling behind China's pace for the first time in nearly two years.'
During that video, we pointed out, that with effect from the following Wednesday, preferential trade treatment for India, where it had been the largest beneficiary of a scheme that allows some goods to enter the US duty-free, would cease, and now India has decided to retaliate.
It was reported yesterday by most mainstream media, that with effect from today – Sunday- India will impose tariffs on 28 US products, including almonds, walnuts and apples. Some of these tariffs will be as high as 70% but even that rate is lower than the 120%, they were going to impose in June last year, but trade talks had delayed their implementation.
Now, we may perhaps think that these products are of little importance, but, we shouldn't be surprised that the media will focus on the more sensational headlines. That said, India is the world's largest buyer of US almonds and their $543 million spend represents some 50% of almond exported in 2018. It is also the largest purchaser of apples representing approximately $156 million spend.
The BBC reported:
"US-India bilateral trade was worth $142bn (£111bn) in 2018, a sevenfold increase since 2001, according to US figures. But $5.6bn worth of Indian exports – previously duty-free in the US – will be hit now the country has lost preferential treatment under America's Generalized System of Preferences (GSP)."
Now $142bn is a sizeable amount but is small when compared with the trade carried out with China, but the growth rate is impressive. Nevertheless, the concern is, that once again, global growth could indeed be further eroded unless these matters are resolved relatively quickly.
What is interesting about the India situation, is that it's not all about unfair trading relationships – which President Trump uses as his raison d'être for imposing these tariffs.
The President has also threatened to impose sanctions if India purchases oil from Iran and if it goes ahead with plans to buy Russian S-400 anti-aircraft missiles.
So, the relationship here is not one dimensional, and what is potentially at risk, are both the political and security ties between the two nations.
Also underlying these tensions are those companies which have already been impacted by new rules introduced by India in the field of e-commerce and data localisation (the latter used arguably to prevent private data being hacked). These companies impacted include Amazon.com, Walmart Inc, Mastercard and Visa, among others.
We should be aware that Mike Pompeo is visiting India this month and will be holding trade talks while he is there, and Prime Minister Modi will be meeting with President Trump (for the first time) on the side-lines of a G20 summit in Japan on 28th and 29th June. So, all of this may eventually become a 'nothing burger' if an agreement can be reached.
If not, its just another example of world trade potentially being adversely affected when current economic growth proves that it needs as much trade as possible.
Whilst we are optimistic that these matters will be resolved, and that some e.g. China, may take some time, it is in everyone's interests to resolve them and so the tensions currently experienced will, or at least should, eventually be ameliorated.
What do you think? Do share your thoughts.