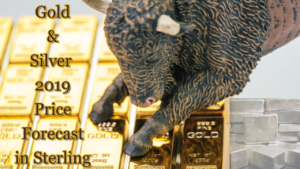 Yesterday we published our Gold and Silver Price Forecast for 2019 in US dollar terms.
Now in this video we pointed out that there was indeed potential for both gold and silver to rise in US dollar terms to the end of 2019 even though we have already seen a 19% growth in each of them since 1st January.
The reasons for this growth are many but the key ones include:
We have the bond markets sending a signal that the US and many western countries are moving towards a recession – the inverted yield curve announced last week is often a strong indicator of that happening and we now have both the 2 year and 10 year bonds with an inverted yield curve.
Strong demand for gold particularly by Emerging Markets and especially their Central Banks
Brexit uncertainties in the UK and their impact on Europe
Italian Political and economic difficulties
Issues with Iran
China US Trade War
Potential US / Europe Tariffs
Fed changing course – reducing interest rates – but will face problems as the amount they can reduce rates by are limited.
Portfolio managers are re-addressing their strategic asset allocations, and some are moving in favour of gold.
Mixed financial results from major companies and volatility of stock indices from what has been all time highs
the rather unique way President Trump negotiates causes a degree of destabilisation amongst markets.
Now our predictions for gold and silver in US dollar terms for 2019 are:
Highs between $1600 – $1700 for gold and for silver between $19.50 – $21.00
At year end, we are expecting gold to fall back to $1550 – $1600 and silver to $18 – $19
Thereby giving gold and silver annual increases of around 23% – 24% .
But what about in sterling terms we have been asked, therefore the purpose of this video:
In sterling terms, gold has already risen from £1,005 from its 31st December close to the current £1253 a gain of almost 25% and silver has risen from 31st December close of £12.11 to its current price of £15.11 another gain of almost 25%. This compares in US dollar terms a Gold and silver gain of 19% to date.
Now the prime reason for this, and it does not take a genius to calculate it is the devaluation of sterling against the US Dollar. When at the start of the year there were 1.28 dollars to the pound and today there are 1.21 US dollars to the pound – fall of – yes you guessed it 5.5% – which represents the difference in the rise in gold and silver in dollar terms compared with the rise in sterling terms.
Now if you are thinking ahead, you will know doubt be thinking – OK this is simple, all we have to do is load 5.5% to the illuminati silver's price prediction in gold and silver in dollar terms, and voila you have their sterling prediction.
Good thinking but not so fast.
That calculations would be correct if one assumes the status quo is maintained and the parity between sterling and the dollar remains unchanged.
The problem is of course, sterling vs the dollar is likely to move either up or down over the next 4 months. The question is in which direction.
Now this is where we now have to convert our hats from those of being precious metal analysts to foreign currency analysts.
Between now and the end of 2019 there is one definitive action to be concluded in the UK and that is Brexit on 31st October (either a hard Brexit or a negotiated Brexit or no Brexit at all) and the second is a potential general election or change of Government either before 31st October or shortly after 31st October if Brexit occurs.
Now we won't go into the political shenanigans which are currently underway re a change of Government but suffice to say we are still facing the prospect of additional turmoil in the UK and a serious potential of a Hard Brexit which most (not all but most) economic experts believe, short term will be detrimental to sterling and the UK economy.
So, we have to edge our bets here and make a best-case scenario assessment.
It is our assessment that between now and the end of the Year, we could see sterling fall as low as 1.15 to the US Dollar which would mean that if we believe silver is say $19 it would rise in sterling terms to £16.52 an ounce from its current £15.11 another 9% gain and gold if its $1600 will rise in sterling terms to £1391 from its current £1253 another £140 an ounce. Now of course we are assuming we have got our dollar price forecasts correct – if we have understated them then these figures of course change higher and vice versa.
However, if there is no Brexit (which is around a 15% probability factor) or a better negotiated Brexit (which is a 40% probability factor) then sterling may actually gain some strength against the US dollar, especially if the FED reduces rates as well but even then, we find it difficult to see sterling advance beyond 1.25 dollars to the pound and assuming that happens then we shall see silver prices rise from the current £15.11 to just £15.20 and gold to rise from its current £1253 to just £1280.
These are our annual closing price projections remember. In between now and then, it would not be at all unreasonable to see gold potentially hit £1470 and Silver (a £220 an ounce rise) and silver hit £18.26 a rise of £3.15 but this is not where we assess they will end up at the end of the year.
So in a nutshell, we still foresee higher prices ahead in sterling terms with a maximum potential of gold potentially rising by another £200+ an ounce but ending the year either similar to current levels or up £140 from where we are today and silver rising potentially another £3+ an ounce but again ending the year at just above current levels or around $1.50 an ounce higher than today.
Now of course we add a caveat to this assessment:
No-one can predict with 100% accuracy of what will happen simply because there are too many variables affecting these prices; not least of which include, human error, greed, and mistakes by politicians, bankers and economists. There are also black swans lurking which include Iran, North Korea and of course the elephant in the room China.
We would like to think however that we have taken into account what would be deemed reasonable and now will just wait and see how events unfold.
You can rest assured however that if we encounter situations where events change either for the better or worse, you can rely on us to promptly notify you and at least will give you a weekly guide in our weekly update usually published on Saturday and occasionally on Sunday.
Gold & Silver Price Forecast 2019 – illuminati silver