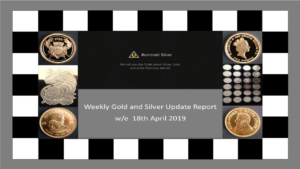 Gold fell $15 last week from $1290 to $1275 having hit a high of $1,292 and a low of $1,271.  In sterling terms gold finished the week at £981 that's down £6, and in Euros it closed at 1,134 Euros that's down 8 euros.
Silver fell 3 cents from $14.99 to $14.96 having hit a high of $15.10 and a low of $14.86. In sterling terms, it closed at £11.51, that's up 5 pence and in Euros it closed at 13.30 euros, that's up 0.04 euros.
The Gold to Silver Ratio fell from 86.1:1 to 85.2:1
The Dow Jones closed on Thursday at 26559 up 110 points on the day and up 147  points on the week, and the NASDAQ closed at 7,998 up 2 points on the day and up 14 points on the week, and the S&P 500 closed at 2905 up 4 points on the day but down 2 points on the week.
Brent Crude rose 42 cents from $71.55 to $71.97 and US Light Crude rose 11 cents from $63.89 to $64
The dollar index stands at 97.37 that's up 0.4 on the week reversing the previous week's fall.
We ended last week's report with the words:
"we envisage a slightly weaker gold and silver price though once again no dramatic moves in either. Perhaps the best way to describe our assessment is a slow grind down to the next major support level."
Whilst both gold and silver prices fell in US dollar terms, gold fell the hardest resting at that crucial support level of $1275. Technical analysts basically foresee a further decline to the $1250 level very soon and we don't disagree – Even $1225 is in sight for some. It will be interesting to see when markets open after the holidays next week whether they attempt to regain lost ground with fresh buying or continue the descent towards these lower levels.
Do you remember the furore that Basel III was suddenly going to raise gold prices in April and we stated don't be so sure, its even possible it may cause prices to fall a little short term? Yet again we were right. Now we do not say this to boast or show off, but we certainly stood against the herd of most of those on you tube and even Kitco news interviewees advocating higher prices. It's quite lonely standing out there sometimes, but we have a duty to advise what we see from our analysis and it is proving accurate yet again.
Tuesday will prove quite important in that we shall either see a correction back to $1290 or a fall heading towards $1250.
Silver performed better but with a GSR of 86 and now 85:1 one should expect so. We have been advocating lower silver prices because of a fall in industrial demand as indicated by the videos we put out both for general release and a more detailed one in the Inner Sanctum – highlighting the World Silver Survey 2019.
Interestingly though during the week China reported better growth figures than anticipated for the first quarter of 2019 and this has caused a little confusion as to what effect on the world economy this may have. We still suspect trade is in the doldrums Internationally and may get a little worse, but we are also aware of the attempts made by central banks to ease credit again to ameliorate these effects. Chartists are stating that silver will either rise to $16 slowly or break down to $14.50. We believe the latter will occur first though in fairness silver prices have held up well closing down just 3 cents.
For the moment and as it has been for many months, most of the impact will be based on the movement of the dollar.
So, what do we have on the economic calendar for next week but please bear in mind there may be a delay because of the Holidays:
Monday – Existing Home Sales for March
Tuesday – New Home Sales for March
Thursday – Durable goods orders for March
Friday – GDP for Q1. (Q4 for 2018 had GDP at 2.2% and forecast for Q1 is 1.5% – much of it affected by the Government Close down in December and January.).
What was interesting about last week's figures were that Retail Sales for march were 1.6% against an expected 1.1% and the Trade Deficit for February was – $49.4 billion vs an anticipated – $53.4 billion.
So how do we see this coming week? Well as mentioned earlier Tuesday will be important to see whether traders follow through with the decline in prices or decide that both gold and silver are at crucial support levels and instigate fresh buying. We are still of the view that the downtrend is more likely, especially as stock markets continue to rise and the US dollar retains its strength.
On the political front, with the Mueller Report out, some Democrats are calling for Impeachment. Our view is that such a process would be pointless as it would not get through the senate and in any case the Presidential Election is likely to occur before such a vote has to be taken by the Senate. However, we have heard that some Democrats are of the opinion that they can push through a vote relatively quickly and actually want the Republicans to vote against in the Senate as they will then declare that the Republican Senators are just Party Hacks rather than representing the Constitution they are meant to uphold. It shall be interesting to see how that plays out.