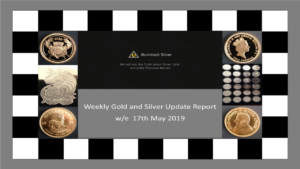 Gold fell $9 last week from $1286 to $1277 having hit a high of $1,303 and a low of $1,275.  In sterling terms gold finished the week at £1004 that's up £15, and in Euros it closed at 1,144 Euros that's unchanged.
Silver fell 38 cents from $14.78 to $14.40 having hit a high of $14.85 and a low of $14.40. In sterling terms, it closed at £11.32, that's down 5 pence and in Euros it closed at 12.90 euros, that's down 0.25 euros.
The Gold to Silver Ratio rose from 87:1 to 88.7:1
The Dow Jones closed on Friday at 25,764 down 98 points on the day and down 178 points on the week, and the NASDAQ closed at 7,816 down 81 points on the day and down 100 points on the week, and the S&P 500 closed at 2,859 down 16 points on the day and down 22 points on the week.
Brent Crude rose $1.59 from $70.62 to $72.21 and US Light Crude rose $1.10 cents from $61.66 to $62.76
The dollar index stands at 97.99 that's up 0.66 on the week.
Gold prices initially dipped on opening and then rose throughout Monday, peaking on Tuesday, as markets digested the retaliatory moves by China on the increase in tariffs raised by the US the previous Friday.
We then witnessed some toing and froing with gold falling on Thursday and more significantly on Friday. The spread between low and high is a still relatively small $28 though slightly increasing from previous weeks.
The rise in the US dollar on Friday precipitated the main fall in gold prices and we published yesterday a podcast on the dollar rise entitled 'US Dollar Collapse – How soon is it likely to happen?' and include a link in the description below.
If you haven't heard it, we strongly suggest that you do, as we believe it puts into perspective all of this nonsense about imminent collapse that pumpers and conspiracy theorists have been touting for years.
Also for those who missed our last weekly update, we pointed out that some 2 weeks previous, we published a 3 part interview with Erik Townsend – Hedge Fund Manager/Owner who believes the US dollar is likely to move much higher, well above 100 in the index, and this will create a very strong headwind against gold and silver.
We have also placed these interview links in the description below and again strongly recommend that you listen to them if you haven't already done so.
We have spent many months pointing out that the major influences on gold and silver prices has been, and will continue to be, the US Dollar value, and it is crucial if you are a regular purchasers, traders or someone looking to invest in this area, that you are aware of one of the major determinants of precious metal prices.
From a technical point of view, the daily swing chart suggests that the trend in gold prices is up.
However, momentum has been trending lower since gold hit $1304 on the 14th May and medium-term momentum is turning negative as the MACD is poised to generate a crossover sell signal – again, as we stated last week, reflecting consolidation.
That said, technically speaking, any fall below $1278, which is where we more or less reside now, may see a bounce at $1272, but if that is broken, then prices are headed for $1265 and then $1253.
In microcosm some argue that a fall below $1268 is more significant, as it is at this level, that the daily and weekly charts indicate a negative technical trend.
On the positive side, a sustained move over $1281 may indeed see prices head towards $1292 but unless you are a day trader these levels are so small they are basically insignificant to us.
We cannot over emphasise that technical analysis is just a tool – an important one – but is not a crystal ball accurately predicting the future.
We were more aware of Friday's Consumer Sentiment Index for May which was forecast at 97.1 but actually came in at 102.4 – the highest level in 15 years – thereby buoying the US dollar which had a downward effect on gold and silver prices.
We are not ignoring gold's brief foray into $1300 territory last week, but it really was so brief, and the response was an immediate downward shift, which we would argue, rather than witnessing a positive move towards $1300 we were actually witnessing a major resistance at that level.
We have stated for a few weeks, that we have difficulty recommending a positive case for silver short term, and yet again our concerns were supported, with silver falling just over 2.5% last week in US dollar terms.
It managed to maintain reasonably robust for most of the week, but just caved in Thursday and Friday closing at its weekly low.
Having broken below the $14.50 is significant, and one should not be surprised to see silver aiming towards $14.25 where there should be some reasonable support and then possibly heading for $14.
Now this may take a few weeks to achieve, however, we foresee no reason for this not to happen, save some major military conflict e.g. Iran or North Korea which will lift all precious metal prices.
Now we have noticed that some of our subscribers have recently been questioning, and in some cases stating, that a GSR of 87 is unsustainable – well yesterday it reached over 88.
Now we don't know who they have been listening to, but regrettably for them, our view is that they are not only wrong, but we can see the GSR hit 90 quite soon.
The reasons truly are quite obvious. A trade war with China and other countries, depresses international trade. Silver is a major component of that trade, as it is used in so many appliances and commercial applications.
While the trade war continues, and it looks like it will at least until June, if not longer, demand for Industrial silver will fall, and if its price is not compensated by a rise in demand for it for monetary purposes, silver only has one way to go.
While gold on the other hand may become more desirable as a monetary security hedge but is less dependent on commercial applications – though frankly we even see gold prices falling further but not as fast.
So, if you hear someone stating that there is going to be a major reversal soon – don't count on it – its purely wishful thinking on their part.
So, what do we have on the economic calendar for next week:
Tuesday – Existing Home Sales for April
Wednesday – the FOMC minutes are released – these will give a further indication as to the FED's thinking on interest rates – though most of us have a clear picture already
Thursday – Markit Manufacturing and Services Flash PMI for May plus New Home Sales for April
Friday – Durable and Core Capital goods orders for April.
So, perhaps Wednesday will have most significance in terms of price action.
The US relationship with China, North Korea and Iran will be paramount over the coming weeks, and these geopolitical moves will have some bearing on equity markets, the US dollar value and of course prices of gold and silver – both of which look anaemic for the next couple of weeks – at least in US dollar terms.
In sterling terms, the picture is a little different; as the political fallout re Brexit and an announcement that Prime Minister Theresa May will shortly declare her resignation date, has all served to cause sterling's value to fall and of course gold prices to rise.
Finally, a brief note for Inner Sanctum Silver Members – Our webinar Link from last week will be placed in the Inner Sanctum today for those who were unable to join us and next week we shall be announcing new interviews which will be shortly published – some for Inner Sanctum members only and some for public consumption.
For those who have not tried our Inner Sanctum Bronze or Silver membership levels as yet, but are registered free members, you will be sent a discount code of 50% off for one month this weekend so that you may try our service which is constantly being added to.
We cannot offer the same lifetime discount we gave original founding members, but we can at least hopefully tempt some of you to access the full range of videos, podcasts, blogs, interviews and downloadable products which are either not available to Free members or are available on an individually charged basis, for a month, to assess it s value to you at minimum cost.
Please note that our downloadable products alone, which you will have FREE access to are worth in excess of $1,000 and this increases each and every month.
So please look out in your email box for the discount code which will be sent this weekend and if you haven't registered as a FREE Member we strongly urge you to do so by visiting our site at illuminatisilver.com.
Recommended Podcasts:
US Dollar Collapse – How soon is it likely to happen?
https://youtu.be/_Ay7kGPh8_I
Erik Townsend Part 1 –
https://www.youtube.com/watch?v=aJFFDGxA6tY&t=4s
Erik Townsend Part 2 –
https://www.youtube.com/watch?v=aqLS1F149z8&t=712s
Erik Townsend Part 3 –
https://www.youtube.com/watch?v=DdeAq5-QpY4