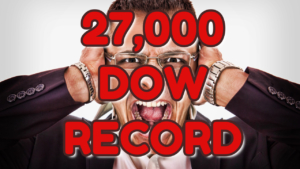 9 Months ago, Harry Dent published a video headed: 'Biggest market crash of our lifetime is coming'
Global Economic Collapse Coming 2019 – Financial Education – 7 months ago
6 months ago – Epic Economist – 'The Collapse has begun'
'Stock Market Crash – Stock market recession 2019' – Traders Tech – 6 months ago
'Stock Market Crash coming end of 2019' – Cooper Academy Investing 4 months ago
Financial Times 4 months ago published :
Gregory Mannarino : 'Signs of collapse coming in March 2019. Stock market Crash 2019.'
At the same time in published a similar video stating peter Schiff has predicted the same.
'Peter Schiff Alert – Dow Jones Collapse '– Pub by Warning Economic – 2 months ago
'Economic collapse 100% on August 5th 2019 – The market looks exactly like 2008′ – Money News 1 month ago
'2019 Collapse – The Stock market is one economic report away from a collapse' – Full Spectrum Survival – 1 month ago
'Dow Jones Collapse – Us Recession getting Worse' – Jeremiah Babe – 1 month ago
Elisa Brown issues a video 3 weeks ago stating – 'Peter Schiff warns : Stock market Crash coming in June 2019'
Also published by The Best News &  Global Market predictions
Money News : 'Peter Schiff ; Why the Next economic collapse 100% on August 5th 2019 pub 3 weeks ago'
So, there we have it. We were going to have a stock market crash 7 months ago, 6 months ago, 4 months ago, definitely June and now definitely 100% on 5th August 2019.
Now we cannot account for the 5th August as it has not occurred quite yet though it will be a memorable day as it's the birthday of one of our Inner Sanctum spokespeople.
But let's just take a look at where the Dow Jones is today!
At the time of writing its standing at 27,048 yes today it has reached its all time high. Remember all of those gurus stating it was collapsing at the start of the year and have continued with the same story since  – whilst we have said that don't be surprised if it reaches its all time high though being conservative we thought it might just rest slightly below it but still advocating a Dow at least 5,000 higher than most others and 10 – 15,000 points higher than the doom mongers.
Now there are a number of reasons why the Dow has hit this figure, not least because the FED Chairman indicated yesterday that an interest rate cut is all but certain this month and the stock market loves interest rate cuts. Now we do not believe it will be as sharp or as frequent a cut as the stock markets is hoping but nevertheless, the trend is more down than up. We shall be discussing this in more depth in an inner Sanctum video being published tomorrow and will refer to it in our weekly update on the weekend.
But it does make us laugh on the one hand to hear Peter Schiff say to expect a collapse numerous times this year – shifting sands – and then on the other stating that the FED will do all that it can to support the stock market – implying that the Fed will 'look after its mates'. Well peter if you believe that, and it may be right – why are you continuing to bang on about an imminent collapse? – ah surely it's not that it causes people to buy gold and silver and you have a company involved in that –– you wouldn't be that manipulative would you?
To all of our listeners and readers, if the FED reduces rates this month, and we believe they should not, but after yesterday signs are that they may give in to a 0.25% cut this month, and markets predict further cuts ahead then we shall see the Dow climb to 28,000 if the FED fulfils market expectations– if the FED is more conservative and is less aggressive on future cuts, we could see the Dow fall back to 26,000 and rest around 25,000.
Either way we shall look forward to August 5th and if there is no Dow collapse – perhaps Peter and any of the other doom and gloom merchants could come on this channel and state why they have got it wrong yet again.