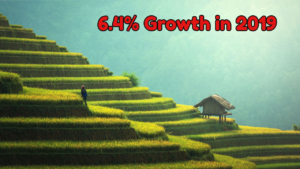 Two months ago we reported that Beijing was forecasting slower growth for China of between 6% and 6.5% this year, down from a target of around 6.5% in 2018.
Well despite this and its continuing trade war with the US, official figures reported today show that China's economy grew slightly faster than expected in the three months to March
The economy expanded at 6.4% in the first quarter from a year earlier, ahead of a Reuters forecast of 6.3%. This 6.4% growth reflects a sharp pick-up in factory output, with industrial production jumping to 8.5% in March.
Additional data reported today shows retail sales for March rose 8.7% and fixed asset investment expanded to 6.3% compared with a year earlier,
We previously pointed out that the Chinese government were looking to introduce measures to boost its economy, which amongst other measures, included tax cuts, speeding up construction projects and cutting the level of reserves banks are required to hold; while attempting not to increase consumer debt – though ultimately we suspect the latter will eventually occur.
China's government has been pushing to shift away from export-led growth to depend more on domestic consumption and therefore there is bound to be a relaxation in credit ultimately which short term could potentially result in an economic boost but with longer term implications.