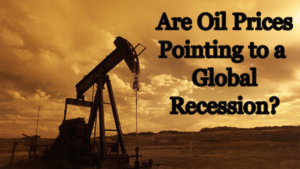 On Tuesday 4th June we produced a YouTube video entitled:
 'Oil Prices Fall to lowest level since January' – when Brent Crude closed at $60.96 and WTI Crude at $53.13 and we suggested that this was an indication of a global slowdown.
Well oil improved ever so slightly since then because of rising tensions with Iran but yesterday Brent Crude prices fell to $60.75 and WTI to $51.76.
Now in itself a dollar or two makes little difference, however, we cannot forget that the Middle East is warming up with the US sending an additional 1,000 troops there since Iran announced yesterday that it would no longer comply with part of the 2015 deal where it would curb its nuclear ambitions.
Under normal circumstances, this would be enough to see oil rise at least $5 – $10 a barrel if not more and quickly but prices have fallen around 20% since April, in part due to concerns about the U.S.-China trade war and disappointing economic data.
Again, yesterday, the New York Federal Reserve stated that its gauge of business growth posted 'a record fall this month to its weakest level in 2-1/2 years'; with the Empire State Manufacturing Survey -the monthly survey of manufacturers in New York State showing a -8.6 index figure for June compared with a positive 17.8 figure for May – which is the largest one-month decline in 18 years.
We should also not forget that shale oil output from the US is also expected to reach a record high and this could further dampen prices.
OPEC and other producers are meeting later this month as we mentioned in previous videos to discuss supply issues and quotas; but Al-Falih, the Saudi Arabian Energy Minister, has already stated that production figures are expected to be at
"about the same level as in the last few months."
Tomorrow the FOMC will decide on interest rates and we shall hear Jerome Powell's assessment of the strength of the US economy from the Bank's point of view. Now whilst we are not expecting an interest rate cut tomorrow, if one did occur, then the US economy is in a much worse state than many believe.
Oil, manufacturing output, and retail sales are all showing signs of economic decline, and this will put further pressure on President Trump to come to some sort of deal with China. That said both parties are still at loggerheads.
Tomorrow will be an important day for precious metal prices as Jerome Powell gives his Press Conference at 2.30 and let's keep watching oil as it does tend to be quite a good (but not fool proof) barometer of how economies are faring.