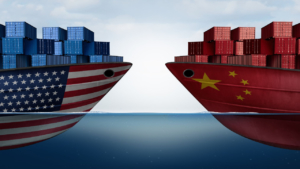 Last Friday, the US increased a 10% tariff on $200bn worth of Chinese goods – including fish, handbags, clothing and footwear – to 25% thereby potentially escalating the 'trade war' with China.
In addition, it is reported today that The Office of the United States Trade Representative has also said it has been ordered to "begin the process of raising tariffs on essentially all remaining imports from China, which are valued at approximately $300 billion".
This trade dispute primarily arose because The US has argued that China's trade surplus with the US is the result of unfair practices, including state support for domestic companies. It also accuses China of stealing intellectual property from US firms and President Trump and his administration has taken a firm position against this.
In fact, the President has tweeted that the US is "right where we want to be with China. Remember, they broke the deal with us & tried to renegotiate…..we will be taking in tens of billions of dollars in tariffs from China. Buyers of product can make it themselves in the USA (ideal) or buy it from non-tariffed countries."
Now whilst most politicians agree that the current situation cannot continue indefinitely, many argue that it's the US citizens who will suffer the most unless this is resolved quickly.
The argument goes like this:
It is American businesses which will have to pay the tariffs on any goods brought in from China, and that US consumers would also foot the bill if firms passed on the cost increase.
This was confirmed by President Trump's top economic adviser, Larry Kudlow in an interview with Fox News yesterday, although he did add that "both sides will suffer" from the trade dispute.
He also pointed out that the tariffs would have an impact on China's economy, as the higher costs would reduce US demand for Chinese goods.
Whereas so far, most companies swallowed the 10% tariffs, previously charged, without passing them on, Economists have said a 25% tariff will be much harder for businesses to absorb than 10%, which means they are more likely to pass on some of the cost to consumers.
China has said it will retaliate but has not announced any details including when it would take action.
The International Monetary Fund (IMF) said the escalation of US-China trade tension was one factor to have contributed to a "significantly weakened global expansion" late last year as it cut its 2019 global growth forecast.
So, what are we all to make of this and how may it affect American citizens as well as the rest of the world?
Well for sure without an agreement there will no doubt be retaliation and costs will go up for imported goods and be passed on to the consumer. Equally of course China will also suffer, and it is a strong argument to say that China will suffer more as it exports more goods to the US than it imports.
However, short term, US citizens will suffer more while they attempt to obtain such goods from other suppliers – which probably will cost more than the prices China were originally charging.
Some farmers, in particular, will suffer immediately, but the US administration has stated they will compensate farmers from the hundreds of millions, if not billions, of dollars the Government is receiving in tariff payments from this arrangement.
This situation is no doubt 2 superpowers expressing their might one against the other. The US has a most valid case; the question however is that does it have the political and economic 'will' to see it through to the end; especially, if, as some suspect, China will wait out the situation, until the US Presidential elections take place next year; in the hope that a more 'benign and agreeable' President is elected.
Meanwhile global growth suffers with most global institutions blaming the US for its tariff policy thereby potentially reducing Trump's electoral chances.
At the time of producing this podcast, Wall Street is setting up for a tough start to the week, with Dow Jones Industrial Average futures down over 300 points as investors wait for countermeasures from China.
Now Mr Kudlow did say on Sunday that there was a "strong possibility" that Mr Trump would meet with China's President Xi Jinping at a G20 summit in Japan in late June.
However, there is some time between now and then, and any retaliatory action by China will certainly upset markets worldwide.
We shall have to see how this plays out; however, we can certainly expect to see some turbulence in equities, currency values and quite possibility the price of gold and silver – though having said that gold is currently down $2 this morning and silver is down 15 cents.
NOTE:  – China has just announced that it shall be levying additional tariffs on $60bn worth of US Goods – Battle has re-commenced!