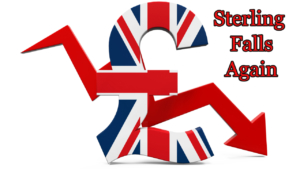 A little over 2 weeks ago – on 12th July in fact we produced a YouTube video entitled
'Sterling Tumbles this week and Gold is £55 off its 2011 High'
In which we addressed the fact that since the UK held its referendum on leaving the Eu on 23rd June 2016 we have seen sterling's value fall, and that particular week Sterling tumbled 0.6% to $1.2443, its lowest since April 2017 but it did recover just a little to $1.25
At the same time of the video Gold stood at £1127 an ounce, just £55 off its 2011 high, and silver stood at £12.13 -some £13 below its 2011 high but still rising quite nicely.
We concluded that video with the words:
"Whilst we are not necessarily buyers of gold in sterling at this level, we still do not think it is hugely expensive, and is likely to rise further over the coming months, almost regardless of what it does in dollar terms, mainly the consequence of sterling devaluation. "
Well 2 weeks later we have seen sterling fall even further – it currently stands at $1.22 some 3 cents lower, and gold is £1,171 £44 higher and silver is £13.52 almost £1.40 higher.
Yesterday we published another You Tube Video entitled:
 "Gold Soon to Reach its All-Time High – In Sterling That Is"
At which time, gold stood at £1153 just over £20 below its all time now and today we are in single digit figures from that goal.
We concluded that video with these comments:
"So, are we going to see gold in sterling terms break its previous record? You bet we will. The ramifications of a hard BREXIT have not hit home yet, and we see sterling suffering further. Add to that the fact that gold generally may have a little uplift because of lowering rates (not as much as the pumpers are expecting but a raise nevertheless) it is almost unimaginable that we shall not see gold burst its UK record."
Well it looks as if this may be achieved this week, but have no doubt, even if it doesn't it will reach beyond £1180 very soon.
We have often been accused of attempting to talk precious metal prices down and to some extent, in dollar terms we have because that is how we have seen them moving. However, our stance in sterling terms has been very different – as we have always thought that the weakness in sterling would more than outweigh the strength of the US dollar thereby ensuring gold and silver prices will rise in those terms.
They still have further to go and tomorrow, we shall see how the FED's Interest rate decision and comments affect the dollar price of gold and silver. We suspect the FED may be a little more cautious than the markets wish for – i.e. reducing rates by 0.25% but stating that the economic outlook is still moderately good – but we shall have to wait and see.
The one note of caution we shall give to those who purchase gold and silver in sterling is that the position could quite quickly reverse, especially if a Hard BREXIT looks less likely to occur – e.g. Boris Johnson does manage to do an agreed deal with the EU or that parliament in some way manages to intervene – but failing that, there is still more mileage in a weakening sterling possibly even down to $1.18 and therefore strengthening gold and silver prices.
Stay tuned for more updates.
 "Gold Soon to Reach its All-Time High – In Sterling That Is"