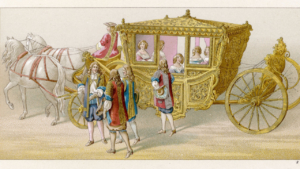 Queen Elizabeth II is the world's longest-reigning monarch who at the age of 93 has been sat on the throne for some 67 years.
The existence and reputation of a British Monarchy is greeted by some Americans with mixed emotions. Some love the pomp and circumstance and the fairy tale image Princes and Princesses conjures up while others see them as part of the Deep State manipulating the public to enrich themselves and their associates towards even greater unparalleled wealth.
Whichever side one takes, it is an undisputed fact that American Presidents regard a State visit to the United Kingdom as an unparalleled honour.  Only two U.S. Presidents – Barack Obama in 2011 and George W. Bush in 2003 – have previously been invited for full state visits.
Well today it was announced by Buckingham Palace that President Donald Trump will make a State visit to the United Kingdom in June (3rd – 5th) – which is a pomp-laden affair involving a carriage trip through London and a banquet at Buckingham Palace and world class media coverage.
The trip will also be seen by many Brits with mixed emotions too. Almost 1.9 million Britons signed a petition in 2017 saying he should not be given a State Visit and protests involving hundreds of thousands of demonstrators overshadowed his trip to Britain last July where he and Melania received a lavish dinner at Blenheim Palace, (the birthplace of the British World War Two leader Winston Churchill), and tea with the Queen at Windsor Castle.
British Prime Minister Theresa May said in a statement:
"The UK and United States have a deep and enduring partnership that is rooted in our common history and shared interests….. The state visit would be an opportunity to strengthen already close ties in areas such as trade, investment, security and defence."
The White House said the trip would reaffirm "the steadfast and special relationship" between the allies.
Prime Minister May is facing calls for her resignation from MPs in her own Party over her handling of the country's exit from the European Union, which has been delayed again until October. She will undoubtedly be hoping for strong backing for a post-Brexit U.S.-UK trade deal and this is in our view one of the main reasons for such a visit.
The Labour Party has opposed the visit but while the Conservatives remain the Government it will take place with May hoping for an attractive trade deal and President Trump hoping to gain a boost in popularity from his recent flagging poll figures.