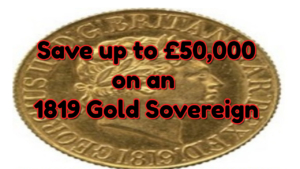 Today we are announcing a wonderful opportunity for you to have a shot at owning one of the rarest British Sovereigns available on the Market today for £50,000 less than the normal retail price.
The Royal Mint is a government-owned mint that produces coins for the United Kingdom. Operating under the name Royal Mint Ltd, the Mint is a limited company that is wholly owned by Her Majesty's Treasury and is under an exclusive contract to supply all the nation's coinage.
Well it's announced officially today that it is selling an "extremely rare" 200-year-old gold sovereign for £100,000 – but the demand for this coin is expected to be so high its acquisition will be subject to a ballot.
The Royal Mint says the George III sovereign was one of 3,574 to be struck in 1819 and there are around only 10 left in the world, and it has been sourced and verified by its historic coin experts. It was minted the same year as Queen Victoria's birth.
The coin is being offered via a ballot on 12 July at the fixed price of £100,000 and potential purchasers will need to apply online before 28 June and will also need to have their application approved before the winner is selected at random.
Click the following link to register for the ballot:
https://www.royalmint.com/sovereign/1819-george-third-sovereign-ballot/
Before it is sold, the 1819 sovereign will be on display at the Royal Mint Experience visitor centre in Llantrisant South Wales UK from 10 June.
This coin typically weighs 7.98 grams of 22 carat gold so its pure 24 carat gold content is 7.315 grams and its diameter is 22.05mm. It features the laureate head portrait of George III by Pistrucci on the Obverse.  The Reverse has the George Dragon design by Pistrucci.
Text reads "GEORGIUS III D:G" , "BRITANNIAR:REX F:D"  "HONI  SOIT QUI MAL Y PENSE".  This is the motto of the Knights of the Garter. The highest chivalric order of the realm, established by King Edward III and his eldest son the Black Prince after the battle of Crécy in the mid 14th Century.
Now you may ask how would I be saving £50,000 – well if you go to the bullion by post website (CLICK HERE) you will see that they are offering a similar coin for £150,266 though they are temporarily out of stock (though one must ask are they hoping to purchase this coin for £100,000 and then sell it for £150,000?) – it tells us at least what they believe the coin to be worth.
Now if this is above what your wallet can afford then the Royal Mint is also selling the same dated half sovereign for just £995 link below but of course it's nowhere near as rare.
https://www.royalmint.com/our-coins/ranges/historic-coins/historic-sovereigns/1817-George-III-Half-Sovereign/