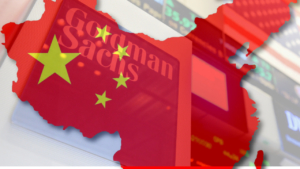 Not long after publishing our weekly gold and silver update on Sunday, Goldman Sachs Group told clients, that fears of the U.S.-China trade war leading to a recession are increasing, and that Goldman no longer expects a trade deal between the world's two largest economies before the 2020 U.S. Presidential election.
In a note they state:
"We expect tariffs targeting the remaining $300bn of US imports from China to go into effect."
Now these client's notes are important. They are used to warn, guide and advise clients on what sort of actions or issues they should be considering.
We already stated in our update that the US was placing 10% tariffs on $300bn worth of Chinese goods as from 1st September and this resulted in China halting purchases of all US agricultural products.
But this dispute runs deep as far as the US Administration is concerned. Its not only about trade, but also subsidies, technology, intellectual property and cyber security, among others.
Goldman Sachs has in fact lowered its fourth-quarter U.S. growth forecast by 20 basis points to 1.8% on a larger than expected impact from the developments in the trade tensions.
This is not good news for the US, and gold and silver this morning rather than weakening as many technical analysts believed that it would, actually strengthened a little – with gold standing at $1512 and silver at $17.07
Not huge jumps, but an indication that this battle is not over, and markets do not like it. The Dow Jones is down 397 and the S&P 500 down 37.
This story has further to run, and as we stated on the weekend, we, like Goldman Sachs, cannot see either side giving in for now.
Gold & Silver Weekly Update w/e 9th August 2019