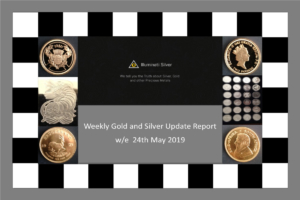 Gold rose $7 last week from $1277 to $1284 having hit a high of $1,287 and a low of $1,269.  In sterling terms gold finished the week at £1010 that's up £6, and in Euros it closed at 1,146 Euros that's up 2 Euro's
Silver rose 17 cents from $14.40 to $14.57 having hit a high of $14.64 and a low of $14.39. In sterling terms, it closed at £11.46, that's up 14 pence and in Euros it closed at 13 euros, that's up 0.10 euros.
The Gold to Silver Ratio fell slightly from 88.7:1 to 88.1:1
The Dow Jones closed on Friday at 25,585 up 95 points on the day and down 179 points on the week, and the NASDAQ closed at 7,636 up 8 points on the day and down 180 points on the week, and the S&P 500 closed at 2,826 up 3 points on the day and down 33 points on the week.
Brent Crude fell $3.32 from $72.21 to $68.69 and US Light Crude fell $4.13 from $62.76 to $58.63
The dollar index stands at 97.61 that's down 0.38 on the week.
Gold prices initially dipped on opening and we only began to see a recovery on Thursday and consolidated on Friday. Right from the start we have to emphasise that the difference between gold's low and high for the week is just $18 and we also note that both its high and low were lower than the previous week.
There is clear resistance at $1300 and support at $1270 and technical analysts warn of a larger move ahead, potentially in either direction, depending on which of these price points break. Now we have seen some analysts become quite excited in that they, in our opinion are over emphasising this potential breakout at this stage.
Gold's movement last week was quite frankly more or less in line with the slight reduction in the dollar index and so our assessment, save, any major political or geopolitical disaster is that gold will be range bound with a slight downward emphasis.
It was interesting to note the FED's minutes which indicated that one can forget any reduction in interest rates for the time being and this to some extent adversely affected the equity markets but not too much.
We found last week gold's price change in sterling to be of more interest. We witnessed gold actually rising only £6 despite the fact that yesterday British Prime Minister Theresa May announced that she will be resigning effective 7th June – though she will remain as caretaker PM until a successor is chosen. Now whilst this pushed gold up it was nowhere near the size of move even, we were expecting – which suggests that either the news was more or less baked in or we may see a greater reaction next week.
Indeed it is our conjecture that whomever her successor will be – is likely to lead us to one of two options vis-à-vis BREXIT – either a 'No Deal Brexit' or a 2nd Referendum which may be either by choice or the result of a general Election – both of which will be politically destabilising and therefore we are expecting sterling and therefore gold and silver prices to react as a consequence.
The trade dispute with China still looms large, any increasing tensions with Iran and North Korea and not forgetting next week's Core Inflation and consumer spending figures due out on Friday are most likely to impact the dollar value – if it does at all- and thereby precious metal prices.
Let's take a look at our favourite subject silver. Well it certainly attempted a rally a number of times last week rising in the end some 17 cents or 1.2%. Despite this, as with gold, both of its highs and lows were lower than the previous week and its high low difference spanned just 25 cents.
From a technical point of view there is support at $14 and huge resistance at $16 but it has to breach quite a significant resistance at $15 first. However, a downtrend line is still in evidence which suggests that silver is more likely to trade lower before it can move higher.
With Memorial Day on Monday we saw quite light trade in this market yesterday and to some degree with the potential geopolitical upsets lurking in the background one would have expected to see more volatility in precious metal prices.
The reality is that for the moment interest is limited and most media attention is focussed on the rift between Nancy Pelosi and the President, the debate over impeachment and now President trump giving Attorney General Barr sweeping powers of declassification to further investigate the origins of the Trump Campaign investigation. These diversions are to some extent clouding out the more important economic and military manoeuvres that are being carried out.
With Memorial Day ahead next week's economic data announcements are in fact quite sparse at least those of any relevance:
Thursday – GDP Revision for Q1 – it was stated at a healthy 3.2%
Friday – Personal Income, Consumer Spending, and Core Inflation figures for April and the final Consumer Sentiment Index for May
So, no excitement until Thursday or Friday.
There was a brief mention by the President on Friday that talks with China are going well and will conclude soon – though we have heard this before but perhaps what is more significant and has to some extent has only been covered on the periphery is that Acting Defence secretary Patrick Shanahan has announced that some 1500 troops are being sent to the Middle East to counter the "ongoing threat posed by Iranian Forces" and that Fighter Jets, drones and other weaponry will also be deployed.
In addition, the President has bypassed Congress in allowing the sale of $8 billion worth of weapons to Saudi Arabia by declaring a national Emergency and Secretary of State Mike Pompeo stated in a letter:
"[Iran's] activity poses a fundamental threat to the stability of the Middle East and to American security at home and abroad….the transfers "must occur as quickly as possible in order to deter further Iranian adventurism in the Gulf and throughout the Middle East".
Now we are not saying that what is being proposed is wrong, but what we are warning about is that these military manoeuvres are suggesting a little more than just preparations. In the end they could just be a form of intimidation to Iran to encourage compliance, but what is uncertain here is the end game and those of us who watch geopolitics closely appreciate that it won't take long for such events to escalate and create market turmoil and upset. So all we suggest at this stage is that you and we watch this one perhaps more closely than the media is reporting it.
Finally, a brief note for Inner Sanctum Bronze and Silver Members – we have posted a number of new Inner Sanctum videos/podcasts including a lengthy almost 2 hour debate between Controversially Greg and Journo Marcus on the issue of BREXIT – if BREXIT interests you it's a most interesting debate – if it doesn't it could be a cure for insomnia.
We are also covering in depth gold and silver valuations in multiple currencies and correlating their price against reducing purchasing powers of those currencies over time – and these will be available for early next week – so if you are a Bronze or Silver member please go to the website illuminatisilver.com and sign in and look in the section "Premium Video's".
Also, we have added a new section to the Forum which will enable members to buy and sell their precious metals to each other – by all means give that a go utilising the personal messenger service within that forum to share personal details to effect payment to each other etc.
For those who have not tried our Inner Sanctum Bronze or Silver membership levels as yet, but are registered free members, you will be sent a discount code of 50% off for one month again this weekend so that you may try our service as apparently not everyone received an email last weekend.
We also carried out a brief assessment of the downloadable products available to Bronze and Silver members for FREE and currently they come to a little over $1250 and these are being added to on a weekly basis – so if you are a bronze or silver member please do not forget this important resource on subjects such as business opportunities, cryptocurrencies, health and fitness, personal finance, personal improvement, precious metals, property investment, working from home and stocks and shares.
Meanwhile we hope and wish you an enjoyable weekend and a prosperous week ahead and Happy and Respectful Memorial Day to all of our US subscribers.
Podcast :  Prime Minister May Resigns: