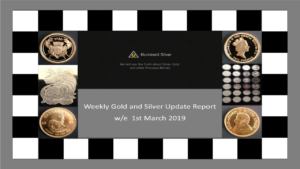 Gold fell $34 last week from $1327 to $1292 having hit a high of $1,332 and a low of $1,290.  In sterling terms gold finished the week at £978 that's down £38 and in Euros it closed at 1,137 Euros that's down 34 euros.
Silver fell 71 cents from $15.92 to $15.21 having hit a high of $16.01 and a low of $15.15. In sterling terms, it closed at £11.52 that's down 67 pence and in Euros it closed at 13.38 euros that's down 0.66 euros.
The Gold to Silver Ratio rose over 1.5 points from 83.4:1 to 84.9:1
The Dow Jones closed on Friday at 26,026 up 110 points on the day and up just 5 points on the week, and the NASDAQ closed at 7,595 up 62 points on the day and up 68 points on the week, and the S&P 500 closed at 2803 up 19 points on the day and up 11 points on the week.
Brent Crude fell $2.07 cents from $67.12 to $65.05 and US Light Crude fell $1.46 from $57.26 to $55.80
The dollar index stands at 96.52 that's up a very slight 0.02 on the week.
Last week we stated that we expected gold to migrate slightly upwards towards the $1350 level in agreement with technical analysts at the time – though we did mis-speak and said $1550 as some of our subscribers pointed out – our apologies for that.
We also pointed out that we expected to see gold operate within a hundred-dollar band during its consolidation period which encompassed its current level. That said, the bullish sentiment could not be continued, and we did in fact see gold fluctuate downwards with a $15 fall on Friday afternoon, closing almost at the week's low. It now stands at the technical floor of $1293 and a fall below this level will see gold likely move further downwards towards the next support level of $1275.
We had weak PMI data from Europe which included Spain, Italy, Germany and France and UK PMI also eased to 52 from a revised figure in January of 52.6. This resulted in overall dollar strength and therefore commodities generally finding it difficult to hold recent gains.
On Thursday we saw GDP figures confirmed for 2018 at 2.9% for the US with Q4 estimates at 2.6% compared with an envisaged 1.9%. As we said in a previous report frankly, we shall have to wait until the figures announced at the end of this month and possibly April before we can have complete confidence in their accuracy due to the Government shutdown in December and January.
Core inflation was confirmed at 0.2% for December with January figures delayed. However, Markit Manufacturing PMI was down in February compared with January as too was Consumer Sentiment Index for February.
Apart from an initial opening blip upwards, silver prices, like gold continued their descent all week with the largest dip of 36 cents happening on Friday. Again, we were a little too bullish on silver as it has fallen below what we regarded as an appropriate $1 trading range. If silver does not recover on Monday, then we can see its price move down to $15 where there is some support but then further towards $14.50 where there is very strong support.
We must be mindful that what is worrying investors is a slow-down in the Asian markets and also that the Chinese New year gold trade is now over and we may very well see prices fall back further as we predicted at the start of the year for mid to late March.
So, let's take a look at next week's economic reporting of consequence:
On Tuesday we Markit Services PMI for Feb plus ISM Nonmanufacturing index for Feb plus the Federal Budget figures for January.
On Friday the all-important Non-Farm payrolls for February also highlighting the unemployment rate and average earnings.
So, we can see some movement in anticipation of those figures on Friday.
As we look at the silver trend chart for the past 12 months, it does not look too exciting. We had a downward trend from June to early December and then a slight upward trend since, but these trend lines are being broken. Its hard to imagine that with all of the discourse we have week by week on this and other silver and precious metal channels, silver is standing at 95 cents lower today than it was exactly 12 months ago – that's down 5.7% and gold is down nearly $35 during the same period which represent -2.6%.
We  are reminded of all of the pumpers who said 2018 was going to be the year for gold and silver going to the moon and yet it hasn't and the same again at the start of this year and do not be surprised if 12 months form now we say that there as been less than a 10% movement in either prices or in fact that they may even have moved lower.
This is though, and we admit, a great accumulation phase for the long term. We are still expecting to purchase gold sub $1200 sometime this year and silver sub $14 with our most pessimistic forecasts being around $1100 gold and $12.50 silver. Of course, these levels may not be reached, however with the continuing strengthening of the dollar and turmoil elsewhere, there is no reason why they cannot be.
Like many we are also wondering in the deep dark recesses of our minds whether Jim Rogers and Harry Dents forecasts of $1000 gold and $10 silver can actually be achieved. What we find is that when we use our fundamental analysis model as our core foundation, our pessimism is often supported, its only when we overlay with technical analysis and identify positive upwards movements do we also get caught up in the bullish sentiment only to see prices fall back again to where our fundamental analysis says that it should be.
On Sunday we are uploading a very expensive course on Cryptocurrencies which is completely free to our Bronze and Silver members and hopefully each of you should have received your free PDF via email on the same subject.  A reminder for silver members that our webinar goes live on Saturday at 9pm GMT and if you haven't registered please do so by either going to your email or on our main site at illuminatisilver.com
We have been asked by some of our paying members to release some of the Inner sanctum videos perhaps a month or two after they were recorded and make them available to everyone. We shall do this with some, but only a small proportion of those videos. The one we released late on Wednesday and has already received some 6,000 views and is entitled "Why silver will never be used to support a Global Currency" – its well worth a listen to if you haven't already done so.
Finally, by Wednesday we are also uploading 5 new Courses on the website, and so please pay it a visit in case they are of interest as once again they are free for bronze and silver members and would normally cost anything from $25 – $100.