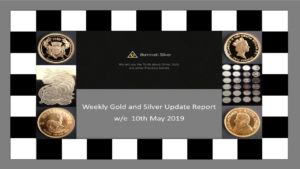 Gold rose $9 last week from $1277 to $1286 having hit a high of $1,291 and a low of $1,276.  In sterling terms gold finished the week at £989 that's up £12, and in Euros it closed at 1,144 Euros that's up 5 euros.
Silver fell 16 cents from $14.94 to $14.78 having hit a high of $14.98 and a low of $14.71. In sterling terms, it closed at £11.37, that's down 6 pence and in Euros it closed at 13.16 euros, that's down 0.18 euros.
The Gold to Silver Ratio rose from 85.4:1 to 87:1
The Dow Jones closed on Friday at 25,942 up 114 points on the day but down 562 points on the week, and the NASDAQ closed at 7,916 up 6 points on the day but down 248 points on the week, and the S&P 500 closed at 2,881 up 10 points on the day but down 64 points on the week.
Brent Crude fell 23 cents from $70.85 to $70.62 and US Light Crude fell 28 cents from $61.94 to $61.66
The dollar index stands at 97.33 that's down 0.19 on the week.
Last week Gold prices rose in US dollar terms immediately upon opening peaked on Wednesday fell back and then continued a gradual rise towards the end of the week. Now in our last update we mentioned that we must consider these rises and falls within a context of their spread and whilst then the difference between gold top and bottom was just $20 this past week its $15, albeit in an upward direction.
In terms of political developments last week which certainly affected markets were President Trump's tweets re China tariffs which both raised concerns and then allayed some fears with concerns re-raising its head as the Friday deadline was reached without agreement and the US raising tariffs to 25% from 10% on goods from China – though both parties have agreed to continue with constructive talks.
In addition North Korea is still testing missiles, thereby causing some concern about any possible de-nuclearization deal, and perhaps what has tended to fall under the radar, if you pardon the pun, was the US sending a Patriot missile-defence system to the Middle East amid escalating tensions with Iran; with the warship, USS Arlington, with amphibious vehicles and aircraft on board, joining the USS Abraham Lincoln strike group in the Gulf and US B-52 bombers arriving at a base in Qatar. This needs to be watched carefully in case this situation escalates further.
On the economic front softer than expected CPI data published on Friday showed a fall from 0.4% in March to 0.3% in April and Core CPI showed a fall from 0.2% in March to 0.1% in April. This caused the dollar to weaken thereby lifting gold prices.
Technical analysts are generally of the view that although Gold prices moved higher, they were unable to break through resistance near the 50-day moving average at 1,291. The support level on gold is seen near the 10-day moving average at 1,280 and the short-term momentum is about to turn negative as the fast stochastic is poised to generate a crossover sell signal whilst medium term, they remain positive.
As we mentioned last week, gold is seen to be in a consolidation phase at present mainly affected by US dollar values, but we suspect geopolitical issues will also soon have an effect. Of course, if the China dispute is resolved this is likely to be bearish for gold short term and positive for equity markets and equally if China retaliates and the dispute worsens the opposite will occur.
In our previous weekly update, we stated:
"We are finding it very difficult to be positive about silver at the moment in terms of price appreciation."
Silver began the week falling peaking like gold on Wednesday and then fell back again ending the week down some 16 cents. The difference between highs and low were just 27 cents but silver is finding considerable resistance at the $15 level and support around $14.60.
Again, like gold US dollar values are significant and of course if China and the US fail to come to some arrangement in its trade dispute we see silver prices suffering more than gold. What did give us a little positive momentum for silver medium term is that some western economies as well as some Asian ones have recently reported growth figures not as poor as many anticipated – however we shall have to wait and see if these continue in a trend or whether latest results were aberrations.
2 weeks ago, we published a 3 part interview with Erik Townsend – Hedge Fund Manager/Owner who believes the US dollar is likely to move much higher, well above 100 in the index, and this will create a very strong headwind against gold and silver.
We have placed the interview links in the description below and strongly recommend that you listen to them if you haven't already done so.
What is concerning for silver is the ever increasing GSR which has now risen to 87:1 and we shall have to wait and see if this corrects a little next week.
So, what do we have on the economic calendar for next week:
Tuesday – Import Price Index for April
Wednesday – Retail Sales for April against a forecast of 0.2% growth plus Industrial Production Figures also for April
Thursday – Housing Starts and Building Permits for April
Friday – Consumer Sentiment Index for May
So, Wednesday is likely to be the most important day as far as economic figures are concerned.
In conclusion, we are of the opinion that geopolitical events will dictate price directions for gold and silver next week, with particular emphasis on China, and not negating the military activity taking part in the Middle East.
As already mentioned, if a deal with China is reached or likely to be reached, we foresee strengthening equity markets and lower gold prices as the dollar strengthens. If the trade dispute worsens then we expect gold prices to strengthen and silver prices to follow suit but not necessarily in the same proportion.
LINKS:
Erik Townsend Part 1 –
https://www.youtube.com/watch?v=aJFFDGxA6tY&t=4s
Erik Townsend Part 2 –
https://www.youtube.com/watch?v=aqLS1F149z8&t=712s
Erik Townsend Part 3 –
https://www.youtube.com/watch?v=DdeAq5-QpY4