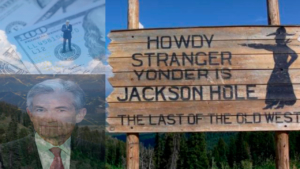 We reported in our video on 1st August entitled
'FED Cuts Rates – First Time Since 2008 – Assessment'
the FOMC reduced interest rates by 0.25% on 31st July and Jerome Powell, the FED Chair, spoke to reporters afterwards in a relatively, but not too, dovish manner.
Well today the minutes from that meeting prior to the interest rate reduction announcement were published today, and this is what it shows:
most Fed officials viewed July's rate cut as a mid-cycle adjustment, reinforcing Fed Chairman Jerome Powell's message during his post-meeting press conference that the rate cut was not the beginning of a long-term easing campaign.
a couple of participants indicated that they would have preferred a 50-basis point cut with these members considering low inflation signals as justification for a deeper reduction to benchmark rates.
With all of the current risks weighing on the U.S. economy, Fed officials stressed the need for policy flexibility.
However, two Federal Open Market Committee (FOMC) members had dissented from the Fed's latest monetary policy decision, with each instead arguing that the economy did not need a rate cut in July. (which was also our position too, but we don't sit on the FED).
Although rates were cut by 25 basis points markets have taken the view that another 50 – 75 basis points would be cut during 2019, with the next cut of 25 basis points expected in September.
As we mentioned in our weekly update on Saturday, Jerome Powell will be speaking at the Jackson Hole Symposium on Friday and his comments will be closely monitored.
Some commentators such as Capital Economics economist Paul Ashworth said last week that the remarks could "trigger carnage in the bond and equity markets" if the public statements fail to appease market demands for clear signalling in favour of easier monetary policy.
Overseas, interest rates have broadly turned into negative territory as a dovish bias overtakes international monetary policy amid slowing global growth. In Germany, the government sold 30-year bonds with a negative yield for the first time ever today with a value estimated at $914 million with a zero-coupon rate. It is further estimated that so far there is in excess of $15 trillion worth of negative-yielding bonds currently worldwide and this is expected to increase.
Well at the time of writing, all US, European and Middle Eastern markets are up with the Dow currently up 235 points at 26,198. Gold is hovering the $1500 level and silver stands at $17.13.
The dollar index is 98.31 and some company reporting today has in fact been moderately positive. Of course, President Trump has been tweeting again and stating that the FED needs to reduce rates by at least 0.5% and soon as the taunts of 'recession' coming from economic pundits and his old former supporters such as Scaramucci are beginning to worry him.
So, Friday is the important day for sure but lets not forget that tomorrow we have the Markit Manufacturing and Services PMI Flash data for August – which could also have an influence.
Of course, we shall produce a video on Friday's Jackson Hole Symposium with a complete analysis.
FED Cuts Rates – First Time Since 2008 – Assessment
https://www.youtube.com/watch?v=gwwD9p_sPwM&t=2s