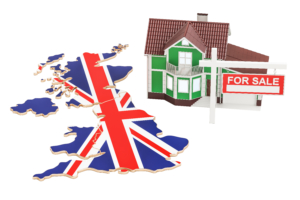 We have spent a lot of time on this channel discussing BREXIT and its advantages and disadvantages; and to be frank, even the greatest economic brains are split as to the after effects once the UK leaves the EU.
Nevertheless, what can be assessed short term, is what is happening now, as a consequence of the BREXIT decision, and how people are currently reacting to it.
Well according to a net balance of 28% of members of the Royal Institution of Chartered Surveyors (RICS) the housing market outlook over the next three months is the worst for 20 years and they expect sales to either remain flat or to fall.
In fact a net balance of 19% foresee falls rather than rises and this marks the fourth consecutive month of negative house price readings. This is the most negative assessment made by the Institute since their records began back in October 1998.
Now what is blamed is not so much the BREXIT decision per se but the lack of clarity of the exit terms and the inability therefore to assess any impact thereafter.
Simon Rubinsohn, chief economist of RICS is reported as saying:
"It is hardly a surprise with ongoing uncertainty about the path to Brexit dominating the news agenda, that even allowing for the normal patterns around the Christmas holidays, buyer interest in purchasing property in December was subdued. This is also very clearly reflected in a worsening trend in near-term sales expectations."
That said, one must also be objective and not just believe everything one reads in the headlines, for there are also issues surrounding lack of supply and affordability.
According to the Office for National Statistics (ONS) and Land Registry reports published earlier this week the average UK house price was £230,630 in October, falling by 0.1% month-on-month.
There is some light however at the end of the tunnel. Mr Rubinsohn also states:
"Looking a little further out, there is some comfort provided by the suggestion that transactions nationally should stabilise as some of the fog lifts, but that moment feels a way off for many respondents to the survey".
We have stated all along, ever since the BREXIT proposals were originally muted, that the run up to actually exiting the EU would create considerable uncertainty, have a detrimental effect on economic growth and activity, and quite possibly this would extend until alternative trading arrangements have been agreed and implemented.
In addition, as is often the case, the 'fear factor' is frequently greater than the reality and therefore people will delay major economic purchases until the future becomes clearer. This is clearly what appears to be happening in the Housing Market – though other reports do indicate that certain parts of the UK are still experiencing moderately good house price inflation – but it is variable.
Our conclusion is that House prices will be generally affected short term, but it does not take a mathematical genius to also realise that if builders are holding off creating 'new housing' until there is more certainty, the existing 'housing squeeze' will increase over time and this will undoubtedly, longer term have a positive effect on House price inflation.