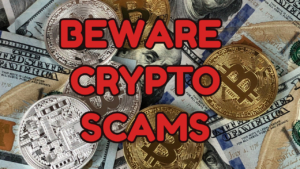 As our subscribers are aware, this channel is predominantly about silver, precious metals and factors which may affect their price, whether its market fundamentals, economics, or politics.
That said, we also see ourselves as performing the task, where we can, of protecting our listeners and subscribers from being taken advantage of, and especially from pumpers and general scam merchants.
Well this article, we hope will also help some of you who are considering investing in cryptocurrencies having recently seen an advertisement highlighting how a small investment could make you millions of Dollars, Pounds or Euros.
Much has been made prior to the recent melt down of crypto currency asset prices that monies which normally would have left equity markets and move into gold and silver have tended, to some extent at least, been invested in crypto currencies and especially bitcoin.
This is not surprising if one notices that between September 2013 – Dec 2017 Bitcoin prices rose from below $120 to above $17,000 and even today its price rests just a tad below $8,000 so one can understand that when you consider that during the same period gold moved from $1350 to its current level of $1275 and silver from $22 to its current $14.40 why people have been tempted by the crypto phenomena.
Well that said, A major article published by the BBC today calls on consumers to be aware of potential cryptocurrency scams and we shall read an excerpt from this article entitled:
'Millions lost in 'celebrity-backed scams'
"Celebrity influencers are being used to promote crypto-currency and currency trading schemes which turn out to be scams, the City watchdog has warned.
These celebrities often have a large following on social media – an opportunity seized on by con-artists to cast a wide net for potential victims.
Bogus online trading platforms promise supersized returns, but fraudsters may disappear with the invested funds.
Crime reporting centre Action Fraud said victims lost £27m in 2018-19.
The Financial Conduct Authority (FCA), the City watchdog, said that celebrity endorsements and images of luxury items such as expensive watches and cars on social media posts were often used to promote schemes.
These then linked to professional-looking websites where consumers were persuaded to invest.
However, it said that those tempted should remember not every investment opportunity is genuine. Criminals could use the names of well-known brands or individuals to make their scams appear legitimate.
Reports of either foreign currency or crypto-currency fraud more than tripled last year to 1,834 cases. The typical amount lost by each victim was £14,600.
Action Fraud director Pauline Smith said: "These figures are startling and provide a stark warning that people need to be wary of fake investments on online trading platforms. It is vital that people carry out the necessary checks to ensure that an investment they are considering is legitimate."
Now we have to be mindful that sometimes celebrities are supporting these scammers unaware but very often the celebrity pictures are being used illegally and false statements used to persuade the followers of these people to invest.
The internet has created untold opportunities for genuine people to make money, but it has also created a tremendous opportunity for crooks to make money too – so beware before you enter this marketplace.
Crypto Currencies are generally not an area we recommend as after all we believe in the long-term benefits of gold and silver. However, we are not blind to the fact that some of our subscribers are interested in this area and especially since prices have fallen back.
With this in mind, we have within our Inner Sanctum a small number of books, eBooks and courses on cryptocurrencies, some of which highlight the platforms that are safe to use. If you are a bronze or silver member you can access them for FREE on our website illuminatisilver.com in the books and courses section.
Also, we have conducted some internet analysis and found the Crypto Vault Network to be reasonably priced with a number of positive reports written about it and we have placed a link i below so you may view it for yourself.
Its advertising is a little scammy, as all of these programmes tend to be, but you do get a 60 day money back guarantee if its not for you – and yes if you purchase it we will receive a small commission which is why we direct you to our Inner Sanctum first as the items there are completely free providing you are a Bronze or Silver member.
So, beware of alleged celebrity endorsements and enter this field, if you do at all, with caution.
Cryptovault Network: