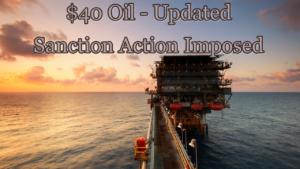 Yesterday's YouTube video – "Why WTI Oil could fall to $40 a barrel" – basically highlighted a Bloomberg report which stated:
'Tankers are offloading millions of barrels of Iranian oil into storage tanks at Chinese ports, creating a hoard of crude sitting on the doorstep of the world's biggest buyer.'
These barrels of oil were then held in what is termed 'bonded storage' in tanks which are still owned by Tehran and therefore not in breach of sanctions, as the oil hasn't crossed Chinese customs – so it is theoretically, in transit.
We further pointed out that the effect of this, is a massive surplus storage of oil which one day, when released, could push oil prices down to $40 a barrel.
We have to clarify this latter point, and then raise an interesting new action which occurred while our video was being published.
The clarification is that we are not stating that we expect oil prices to fall dramatically in the very near future. In fact, the increasing tensions with Iran are likely to push oil prices up in the short term, but once these issues are resolved – and no-one really knows how long that will take – then the correction, in our view will occur.
Interestingly, a number of subscribers who commented on the video also made the point, that OPEC and other countries will not allow prices to fall, and whilst we fully agree they will do what they can to prevent it, with increasing oil supplies, lower demand and a multi-million barrel storage available, there really is only one way prices can eventually go.
Now the interesting development which occurred yesterday is that the US Secretary of State Mike Pompeo said in a speech in Florida yesterday that The United States has sanctioned Chinese state-run energy company Zhuhai Zhenrong Co Ltd, for allegedly violating restrictions imposed on Iran's oil sector.
His exact words were:
"We've said that we will sanction any sanctionable behaviour, and we mean it,"
In a later statement, he said Zhuhai Zhenrong
"knowingly engaged in a significant transaction for the purchase or acquisition of crude oil from Iran" after the expiration of a U.S. sanctions waiver covering China on May 2.
The sanctions blocked all property and interests in property of Zhuhai Zhenrong in the United States and barred its chief executive, Youmin Li, from entry into the country.
China's embassy in Washington retorted with an email stating:
"China firmly opposes the U.S. imposition of unilateral sanctions and so-called 'long-arm jurisdiction' on China and other countries invoking its domestic law …….we urge the U.S. to immediately correct its wrongdoing and earnestly respect other parties' legal rights and interests"
So, on the positive side, the US is showing that it is prepared to back up its threats. However, on the negative side, this is yet another increase in tensions, between the US and China while they have just recommenced trade talks.
Whether this is just another chip the US are using in the China US Trade Poker game remains to be seen, but we have warned for some considerable time, that if the gold and silver markets really do take off, it is more likely to do so because of this Iranian Chinese axis and /or its ramifications, than many of the other reasons investors believe will cause it to happen.
Oil prices are important to the world's economy, trade with China is also important to the world's economy. However military infractions are detrimental, especially short term, and encourages the uncertainty which cause investors to flee to safe investments such as gold and silver.
On a completely different note, in case you were unaware, today the result of the battle for Leader of the Conservative Party and therefore the next British Prime Minister will be announced. Our money is still on Boris Johnson having a comfortable win – its only a matter of hours before we will know.