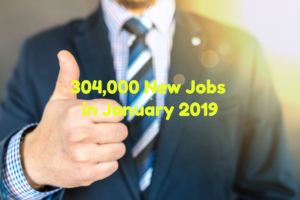 US Job figures were published today showing that the  economy added a stronger-than-expected 304,000 jobs in January compared with economist's forecasts of 165,000.
However, December's jobs growth figure was revised to 222,000, down from an initial estimate of 312,000. In spite of that, the US jobs market has now added jobs for a record 100 months in a row.
The unemployment rate in January ticked up from 3.9% to 4% – a gain the Labor Department said was due to the partial shutdown of the federal government.
The average hourly pay for private sector workers in January was $27.56, up 3.2% year-on-year.
Wages rose by a seasonally adjusted 0.1%, in January, below economists' expectations for a 0.3% monthly gain in hourly earnings.
Mark Zandi, chief economist of Moody's Analytics, which helps compile the report, said: "The job market weathered the government shutdown well. Despite the severe disruptions, businesses continued to add aggressively to their payrolls. As long as businesses hire strongly the economic expansion will continue on."
Our view is that this is an excellent result and at least shows for now, that the economy is still on a growth track. It will of course be interesting to see if these figures are 'revised down' or not next month.